Every picture tells a story
A combo of artefacts and articles
We turn stories into public art
We are pARTicles

THE SLIDESHOW PRESENTATION VIDEO:
THE ARTISANS:
Both separately and in unison, award-winning Sydney-based community cultural development alchemists

Olev Muska

and

Angela Pasqua

have assembled a unified theory and practice from a vast range of skills and experience, including:
► public art ► print and books ► web ► events ► policy and planning ► short film ► music, sound and performance ► public relations and marketing ► education ► the list goes on ...
As advocates for and facilitators of the pure joy of creating, their eclectic tastes have led them to adventures as diverse as indigenous arts brokering in Australia's Northern Territory and producing Estonia's first techno-folk vinyl, recorded in Sydney's south-west in 1985.
Alongside individual pursuits, their collaboration on a wealth of projects extends over more than 21 years.
This depth of knowledge of different cultural contexts and artforms, combined with a keen appetite for exploration together with their highly evolved professional counterpoint, defines the unique creative team that is

pARTicles

.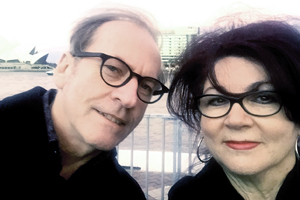 THE PROCESS:
►1 / Client and community consultation and engagement
►2 / Morphing the ideas and raw input into finished art and design
►3 / Working with a range of stakeholders that typically includes architects, local councils, developers, the building industry and other suppliers to bring the project to completion
►4 / Where appropriate, producing printed, digital and audio-visual collateral for extended storytelling, promotional collateral and merchandising